Bump N Grind
Misty Stone First you'll enter past the three rows of alternating speed bumps and ribs, then on to the grinding action of the vortex, another set of bumps, and then vortex again, and if you're still going, you've got one more soft set of larger bumps that will softly welcome you home with a nice hug.
Characteristics
The canal texture starts with a 0.8 x 0.6 inch (20 x 15 mm) smooth walled chamber, which has a ring of flat hemispheric bumps at the end. The shape and size of the bumps is comparable to those of the Speed Bump Insert. Next is a 0.4 x 0.6 inch (10 x 15 mm) chamber containing another ring of hemispheric bumps. This is followed by a third 2.35 x 0.7 inch (40 x 18 mm) chamber that has a ring of hemispheric bumps at the chamber entrance as well as the exit with a zigzag-shaped ridge texture in the center. Experienced Fleshlight users will be familiar with this ridge texture because it has been partially borrowed from the Vortex Insert. The fourth chamber has the same structure as the preceding chamber except for some additional bumps at the end.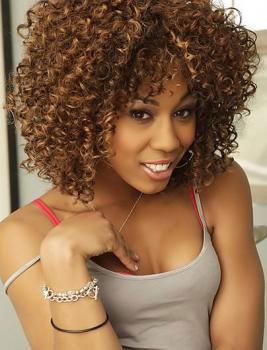 Misty Stone
Misty Stone is in high demand. She was just named Penthouse Pet of the Month for December 2014, cementing her position as one of America's most celebrated adult film stars and nude models....
FLfan's Review
December 5th, 2016 by FLfan
Misty Stone's vagina is one of the most underrated fleshlight sleeves out there. The texture of her is unlike any other and it seems that the softness of the toy is higher than any of the others. I would like to see more black models highlighted in the fleshlight girls lines. This texture is a nice, smooth orgasm that is easy to get lost in. Read More
Star:
Category:
Orifices:
Misty Stone Pussy
Release Date:
October 2010
Take a look at what our users think
Fleshlight Bump N Grind Reviews
Misty Stone's vagina is one of the most underrated fleshlight sleeves out there. The texture of her is unlike any other and it seems that the softness of the toy is higher than any of the others. I would like to see more black models highlighted in the fleshlight girls lines. This texture is a nice, smooth orgasm that is easy to get lost in.
Conclusion:
The vortex sections of this texture are the highlight and will catch you off guard. The orifice is pleasant and soft. I would easily put it in my top 5 favorite textures.
Score 3.90
Overall Satisfaction 4
The name of this texture is really misleading - it's a pretty subtle with a few welcomed spikes of sensation as you thrust and is on the realistic side of the palette - well, as much as Fleshlight can be. The Mold is beautiful as well the color which is a highlight of this sleeve. It's perfect for edging but you can as easily have a quickie with it. It's a versatile sleeve and is a must have if you like the variety in your collection. If you are Misty's fan, get it now.
Conclusion:
Underrated texture that is not very aggressive and thus perfect for long edging sessions as well as pumping through the orgasm. If you like Mocha chicks (Misty's words), you are gonna love this texture. I would definitely buy another one if I had to.
Score 3.78
Overall Satisfaction 4
The lips are beautiful and the pussy lips are gorgeous. My experience with this sleeve can almost be described as a masturbation journey. I felt a smooth caress as I entered the product, but immediately sensed a more intense awareness from the bumps. The ridges create a fascinating suction effect that moves along the shaft in waves. If you appreciate a massaging experience, this sleeve is perfect for your needs.
Conclusion:
I like the texture because it is not too intense compared to other internal channels. I always find it very unfortunate when I have to squirt too fast
Score 2.51
Overall Satisfaction 3.3
I really wanted to like this texture, but alas it does not do the trick for me. Let me start by saying the entrance is beautiful, Misty Stone is so very hot. The coloring of the material is nice, too. The vortex texture just doesn't seem to work for me, and the bump parts didn't do much either. At least I have the swallow texture in Misty's likeness, and that one is a thrill every time.
Conclusion:
Sorry to say, but this one was a disappointment and did not live up to my hopes or to Misty's beauty.
Score 2.29
Overall Satisfaction 1
Orifice: The orifice here is not the most exciting looking one. Misty's lips are small and kind of disappear once you enter.

Texture: The 'grind' part is the Vortex texture, which consists of shallow wide zig-zagging ribs along a varying diameter canal. I also have Vortex, but I don't like it very much because it is kind of rough ('grinding'). The 'bump' part is that here the narrow parts of the Vortex canal have rings of bumps with a rib between them. These narrow places are exactly where Vortex grinds on me --- but that doesn't happen in Bump 'N' Grind because the bumps and ribs (I feel the bumps more than the ribs) are the real point of contact between your penis and the sleeve.

The entrance is moderately tight, though not as tight as Destroya. I wouldn't want it any tighter. After passing through the bumps, the Vortex part of the canal are dominated by the feeling of opening up, which is quite nice. This gives variation and relief from the bumps. I only reach to the end of the first Vortex chamber.

Conclusion:
What can I say, I like bumps and ribs. And here, they're in exactly the right place to break up the grinding of the Vortex and to make the Vortex parts of the canal shine. The orifice is rather unexciting, but the texture is one of my favorites.
Score 3.29
Overall Satisfaction 3.29
I agree with other users on the realism of this texture. Like other full sized sleeves I am no where near reaching all of the texture but I do enjoy the parts that I do. It is a very subtle texture that slowly builds into a great release and the lack of tight areas is actually nice for eliminating that "choking" feeling I get sometimes with other textures of changing diameter.
Conclusion:
Very realistic and some what loose compared to other textures which also helps with realism and easy flowing orgasms. The orifice is also very pleasing and guides you in.
Score 3.27
Overall Satisfaction 3.27
Well it is about time that FleshLight added a dark lady to lineup; it was getting a little racist! The first two times I used this texture I was extremely disappointed, but my last FLight turned out great. As always, there is a break-in period even if you don't have DGS. Anyway, despite having patches of Vortex swirls and loads of "teeth" from the Swallow it is not as good as either of those. Don't get me wrong, that really makes it sound bad, it is good just NOT AS good as those titans are by themselves. The "teeth" are definitely noticeable. So, you might be curious as to how a Vortex with added teeth isn't better than it is without them. I think the pauses in the Vortex texture put in place to give the teeth somewhere to reside break up that feeling enough to lose that signature sensation. Also, if you have the Vortex and still want this texture, go for it because they feel different enough to warrant the purchase. Final words: this texture does feel unique and satisfying and if you like the sensation upon entering the Swallow then you will probably like this as well. Also, if you want a change from the vast array of white ladies available, this won't disappoint.
When you look at the Bump 'N' Grind (BnG from now on), the texture by itself doesn't look impressive. The BnG is another composite texture made from known features: An entrance made of three rows of bumps (from the Swallow texture) separated by thin bands followed by a section of the Vortex texture. This pattern repeats on a second, smaller chamber and culminates with a circular bumps pattern at the exit. Looking at the cross section from the BnG, you can see that with a 5 incher, I was lucky to reach only the second section of bumps, which is not that bad. Looking at this texture, my first impression of the BnG was that it would be a good texture for mid duration sessions (about 30 - 45 minutes) and that feelings would be similar to the Vortex.

When penetrating the BnG, its feedback is immediate - the bumps and bands make their presence known, caressing first the head, then the shaft of the penis. Then you hit the familiar Vortex and with that the surprises it normally brings. If you recall, the Vortex is a texture with a long break-in period and whose feedback will vary based on how tight the FL end cap is. With the BnG, those characteristics are there added to the constant feedback from the bumps giving a variety of feeling if you change the suction levels through the session as I did. The intensity of feelings varies from one feature to the other based on suction resulting in pleasure during use and good, toe curling orgasms.

The BnG tightness is FL average, but the bumps and bands at the entrance make it feel tighter than expected. Once inside, the textures make them felt at all times with an acceptable tightness. The texture is not designed to be realistic and it shows during use. It keeps you hard, but if I have to compare the sensations to a real life sex act, I'll say it resembled an amateurish blow job - not great, but good enough to keep you interested and make you cum good.

I enjoyed using the BnG. No stickiness issues and no annoying noises. During use, if you use the case with full suction, the bumps are going to be most prominent. With no suction, the bumps are still there, but the Vortex section becomes the protagonist. Be sure to vary the suction level through the session to experiment a myriad of sensations on your penis. In my humble opinion, the BnG is one of the textures that allows the most fun during a session, giving full control over its duration.

As most Fleshlights, just place it under the faucet and flush between 30 and 60 seconds on both ends with running water. Not too difficult to clean.
Conclusion:
The BnG is an unassuming texture - it doesn't promise much, but used correctly can rock the world of its user. Personally, I would recommend this sleeve to anyone wanting to have a good time with the fantasy of fucking an African American (or a Latina). It is a fun toy to use and one of those toys perfect for a fantasy orgy.
How to get the best deal for this sleeve
Bump N Grind Fleshlight Coupons & Deals
Coupon and Sale tracking will be added soon.
By following these rules you are most likely always going to get the cheapest price for any texture:
1. Follow the price trend above to track the lowest and average price for this texture.
2. Check if this texture is in the 342 (three for two, buy 2 get 1 free) deal.
3. It is always recommended to buy directly from Fleshlight's Official Store to prevent getting fakes or wrong products. That being said, if FleshAssist found this product listed on other sites such as Amazon, it will show the availability above. When buying from Amazon make sure that the seller is ILF, LLC - Official Store as that is the only store that sells real and original Fleshight products.