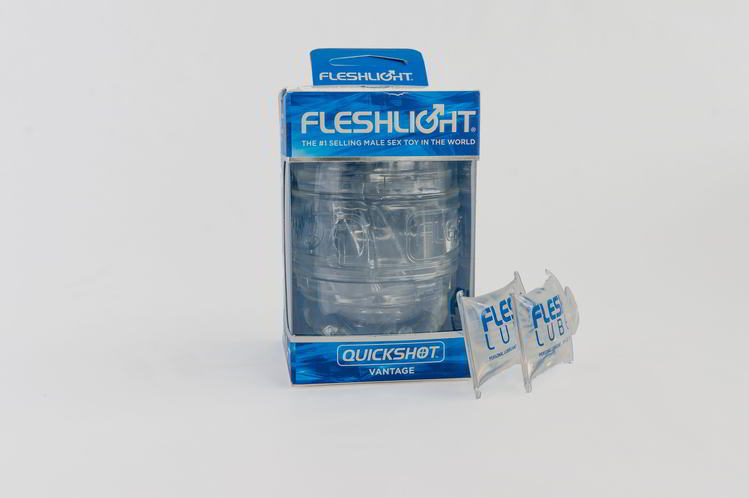 Today we have guest writer MerryFrolics who wrote this post to share his experiences with the Fleshlight Quickshot. If you liked the article post a reply below and check out his site!
Intro
Are you familiar with Fleshlights? If you are, you know that they aren't exactly small and discreet. Fleshlight has their trademark flashlight inspired design, but that doesn't really fool anyone.
The new Fleshlight Quickshot models are aiming squarely at the market of small and discreet male masturbators. They are small, only 4.3'' (10.9 cm) long and 2.7" (6.7 cm) in diameter. The discreet case doesn't give away its purpose immediately and the orifices aren't anatomical.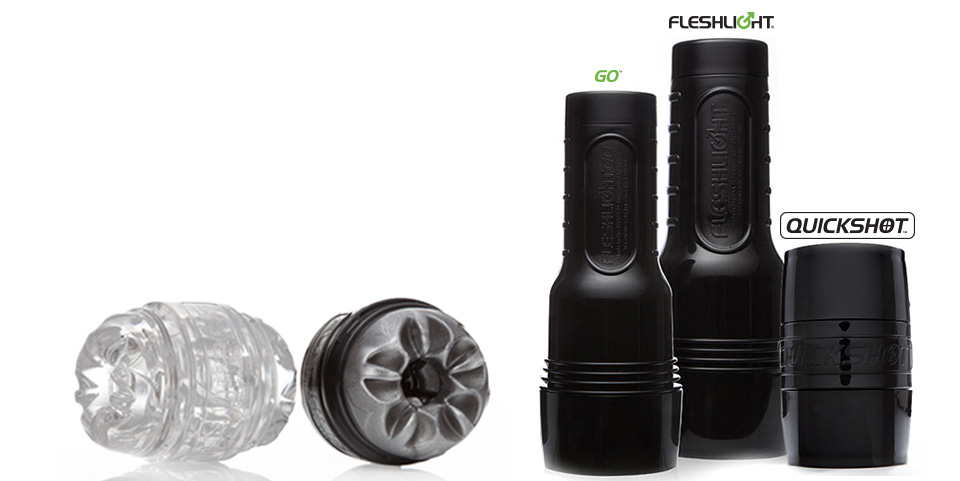 New Fleshlight Quickshots
Quickshot comes in two flavors, Boost and Vantage. They share the same size and external design, but the sleeve texture and material are different.
Vantage's material is similar to Fleshlight ICE models. The sleeve and case are transparent and, therefore, you can see your penis while using the masturbator. The simple ribbed texture is unique for Vantage.
Boost's case is black and the sleeve is gray silver in color. This is a new color variation for Fleshlights. Boost has a new sleeve texture, too.
Not only the size is small with Quickshots. Fleshlight has also priced them aggressively below the regular Fleshlights.
Ordering and Shipping
I ordered my Quickshot Vantage through Fleshlight's online store. As always, the shipping and credit card statement were discreet and non-descriptive. The delivery was quick, only a couple of days (which is fast here in Canada).
Fleshlight also had included two sample packages of their water-based lubricant in the package.
First Impressions
The Quickshot is pretty darn small. If the large size of my first Fleshlight really surprised me, this time I was wondering if this new Quickshot can be any good as it's so small.
The case is small and handy. It also feels solid and durable. The masturbator can be easily hidden in a drawer under the socks or wherever you keep your secrets.
The Vantage sleeve is extremely sticky. This can be off-putting for some. After you apply lubricant, or when the sleeve is wet, the stickiness disappears but it's definitely something to be aware of.
Out of the box, the sleeve had a chemical, rubbery smell. The smell didn't bother me later but when opening the case first time it was quite strong.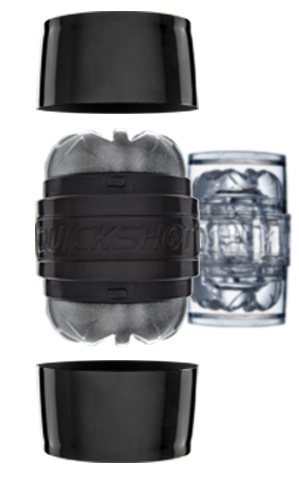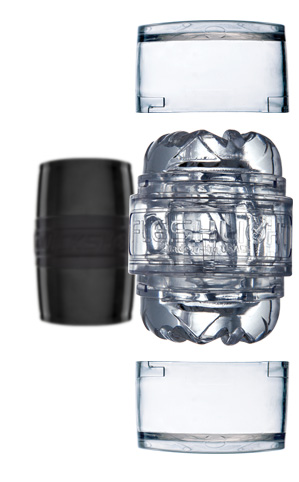 Fleshlight Quickshot Is Like Your Hand on Steroids
If you think regular Fleshlights as artificial pussies then Quickshot is like you hand on steroids. Let me elaborate with the following comparison:
| | | | |
| --- | --- | --- | --- |
| | Hand | Quickshot | Regular Fleshlight |
| Area of sensation | The sensation is limited to the area covered by your hand. | The sensation is limited to the area covered by Quickshot → more or less the same size as your hand. | Envelops your whole penis. |
| Use | You most often stroke your penis by one hand. | You move Quickshot up and down by one hand. | Handling by one hand is clumsy. You either stroke with two hands or thrust with your pelvis. |
| Messiness | You ejaculate in the air. | You ejaculate in the air. | The ejaculation is contained inside the case. |
The sensations when using a regular Fleshlight can be a similar to real sex, but with Quickshot it feels more like regular masturbation.
Stroking the head of the penis with Quickshot is quite pleasant. The sensation is not overly intense, but you can still feel the shapes in the sleeve texture. When stroking the shaft I didn't feel much. I think this is the biggest let down compared to a regular Fleshlight.
Quickshot makes it easy to pace your masturbation. Stroking the head gives you an intense sensation but you can switch to you shaft when you want to cool down a bit.
In overall, the texture is quite plain and there isn't much variety in it. This is mostly because there isn't room for different patterns in the sleeve. Also, again due to the size, the sleeve doesn't envelope your shaft and head at the same time.
I think Quickshot is a different kind of Fleshlight and it shouldn't be compared head-on to regular Fleshlights. It is an amazing upgrade to masturbation by hand, but it doesn't even attempt to be your artificial vagina.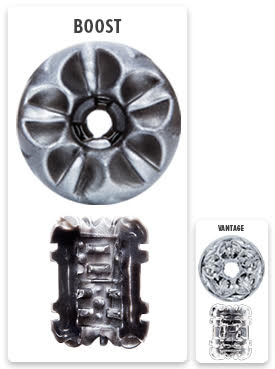 Quickshot Can Be Too Small
I've tried Quickshot with both the case on and without. With the case on, I felt Quickshot is a little too narrow for my liking as I'm slightly larger than an average man. When I took the case off I found the sleeve intensity lacking.
If you're on the large side, you probably should consider other Fleshlights. Check MerryFrolics' Fleshlight Guide for ideas.
Quickshot is Messy and Noisy
Using Quickshot can be a little messy. It's open ended and lube - especially, if you're using a runnier kind - will be leaking from both ends during the masturbation. When you ejaculate, the cum isn't held inside the masturbator. You better be ready. Otherwise, you'll have more cleaning to do.
When the caps are off there is very little case left to grip. There isn't really any way to avoid from getting lube to your hand and fingers.
Quickshot is also surprisingly noisy. The masturbation is accompanied with the slurping sounds from the sleeve. The sounds are clearly louder than with a Fleshlight that has a closed case. It is not super-loud but can be an issue for some of us lacking privacy.
Cleaning Is Quick and Easy
Cleaning your Quickshot couldn't be easier. Just rub it, turn it inside out and rub it again. As the sleeve is so small turning it inside out is really easy.
The sticky ICE SuperSkin is slower to dry than the regular pink SuperSkin. On the other hand, it is easy to dab Quickshot dry from inside and outside, which will speed up the drying a lot.
Bottom Line
Fleshlight Quickshot Vantage is a new category of small and discreet masturbators from Fleshlight. It is truly small and easy to pack or hide.
It is a great upgrade for masturbating by hand. But it doesn't reach the same variety of sensations as regular, big, Fleshlights.
Using it can be a little messy and you should have a towel around to avoid the unwanted mess.
Cleaning and drying a Quickshot is easier than with any other Fleshlight masturbators.
Score:
Sensation: 3 / 5
Ease of use: 4 / 5
Value: 4 / 5
Size: 5 / 5
Ordering and shipping: 4 / 5
Pros:

Much better than masturbating by hand only
Small and discreet
Easy to clean
Price
Cons
:
Limited sensations compared to a regular Fleshlight
Can be too small for bigger men
Really sticky material
Messy