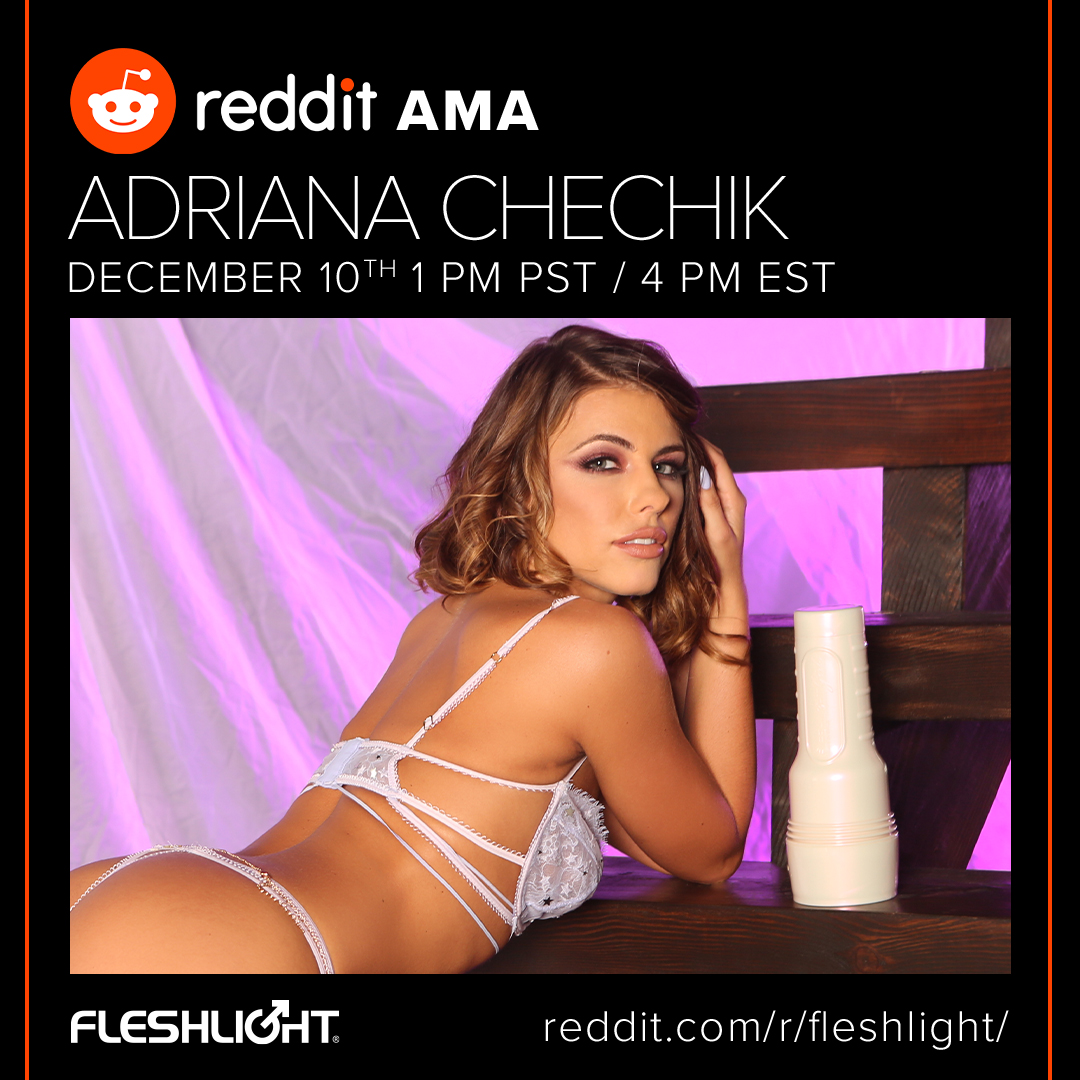 Adriana Chechik AMA - Saturday 10th - 1PM PST - 4PM EST - 9PM GMT (WIN A SIGNED FLESHLIGHT!)
Hello everyone!
I'm pleased to announce that the one and only Adriana Chechik will be hosting an AMA this Saturday on the /r/Fleshlight subreddit.
Who?
Adriana Chechik (aka BratNasty) is an American pornographic actress and internet personality. She has been nominated 54 times over the course of her career, winning 32 awards (AVN, NightMoves, XBIX, XRCO, Pornhub Awards, among others). By 2022, she had mostly retired from pornography in favor of video game live-streaming.
When?
This Saturday 10th - 1PM PST - 4PM EST - 9PM GMT
Mark your calendars!
Google Calendar | Outlook / Office 365 | Yahoo Calendar
Giveaway
As a thank you for participating, you will have a chance to win a SIGNED Fleshlight by Adriana. You will be able to choose her Pussy or Butt Fleshlight Sleeve. There will be two prizes:
- One commenter 

in

 

the

 AMA thread will be randomly chosen 

at

 

the

 

end

 

of

 

the

 AMA.
- One random person who tweets a photo 

of

 one 

of

 Adriana's Fleshlights (proof 

that

 they own one) 

or

 share a screenshot (remember 

to

 

not

 include your 

name

/shipping details 

to

 

not

 dox yourself) 

that

 they purchased one 

of

 her sleeves. Use 

the

 hashtag 

#AdrianaChechikFleshlight. You must tag Adriana's official account (@adrianachechik) + the Fleshlight account (@Fleshlight). Winner to be chosen a week (seven days) after the AMA ends. Example of your tweet would be: "Bought a #AdrianaChechikFleshlight today! @adrianachechik @Fleshlight"



Each winner will receive a message from this account with information on how to continue, select and redeem the prize. Participants must be 18 years of age or older, or age of majority in your state, at the time of entry. Participants must also be located in a state or region where the importation, sale, distribution and/or possession of sex toys is legal. Participants must be located in a state/country where Fleshlight.com ships to. No purchase necessary to participate. If a winner fails to qualify, another random winner will be chosen.
Format & Reminder
The official AMA post will go live 30 minutes before the AMA starts on Saturday, on the /r/Fleshlight subreddit.
Post your question as a comment. Please remember to be respectful, Adriana has gone through a life changing event recently, any nasty, misogynistic, sexist comments will be removed and you will be permanently banned. No soliciting photos/videos/messages.
---
Links:
Official website - Has quick-links to everything you need and a lot of content!
Twitch Channel - She often streams herself playing video games, you can watch for free!
Onlyfans - While she is taking a break from professional-studios, she still is active on her Onlyfans channel and answers DM's, shares pics and videos regularly.
Fansly - Adriana is very active on this site, it's where she posts hardcore content (gaping, squirting, peeing). You can follow for free, or show your support by subscribing (she also answers DM's on there!)
Pornhub Channel - Consider watching her videos on here, as she get's a share of the revenue :)
Adriana's Fleshlights - Use this link if you would like to fuck her pussy or (and!) ass by buying her Fleshlight (This is her direct affiliate link so she will get a % of the sale at no extra cost to you).
Fleshlight Info - If you're looking for information about Adriana's Fleshlights, or just want to see photos and videos of it. Her Butt (Next Level) Sleeve is currently ranked #10 out of 230+ Fleshlights!