Luxe
Cherry Devivre Surrender yourself to a tempestuous ride with Cherry Devivre's intense signature texture. You'll be roused and thrilled by this cam girl's turbulent design, featuring a fluctuating array of ribs, bumps, fingers, rings and nodes.
Measurements
Sleeve length: approx. 9.0"
Orifice depth: approx. 1.25"
Inner texture length: approx. 7.75"
Case length: 10"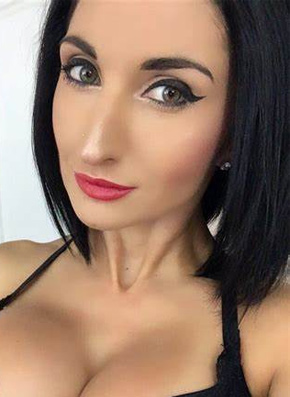 Cherry Devivre
Cherry Devivre is a radiant brunette known for her intimate, satiating web cam shows. She left her corporate career two years ago to grace the adult industry with her presence, quickly findi...
aaron's Review
October 5th, 2016 by aaron
This sleeve, I tell you is truly one of my favourites for what many call edging. It is magnificently varied in its making and texture, with different types of bumps and designs which you will feel as you glide through. It has a lot of suction power, yet it will not bother at all, it is a comfortable suction power that will lead you to great intensity, it is not however very tight, it is loose but... Read More
Star:
Category:
Orifices:
Cherry Devivre's Pussy
Take a look at what our users think
Fleshlight Luxe Reviews
This sleeve, I tell you is truly one of my favourites for what many call edging. It is magnificently varied in its making and texture, with different types of bumps and designs which you will feel as you glide through. It has a lot of suction power, yet it will not bother at all, it is a comfortable suction power that will lead you to great intensity, it is not however very tight, it is loose but not too loose and that is where the balance lies. This sleeve makes me go above and beyond as far as stamina, I think I trained myself more with this sleeve than with STU unit, this will make you endure more and have more stamina indeed. It is an intense sleeve that will make you thrust into it more and more until you build to an intense orgasm. It is one of my favourites sleeves when I want to last long and endure all my stamina.
Conclusion:
A great sleeve to edge and build stamina, a sleeve that is magnificently textured all the way through. A great suction and variation will make you want more and more, it is not too tight so you will be able to pound your way beyond endurance. Better than the STU to build stamina in bed.
Score 3.82
Overall Satisfaction 4.65
Introduction:
A little about my background at the start: I'm an average build circumcised guy and I'm really into strong sensations. Because of a very extensive style of circumcision it can be hard to reach orgasm multible times in a row. I'm sexually quite active with a pretty adventurous woman at my side, that luckily finds Fleshlights and me using them pretty hot. ;)
Review:
At Miss Devivres Luxe Sleeve:
I still don't know who that woman is, but as her sleeve was rated into the heavens, I sadly could not resist. The general setup of the structure with rather large bumps and ridges seemed favorable with my preferences, and I needed another FL to make it over the bonus threshold on the christmas sale. Sadly, I picked this one...

To make a quick: That sleeve somewhat okay, but I'm underwhelmed compared to the reviews on this side. It does *NOT* deserve any of the high intensity/stimulation/penetration-ratings in my opinion. I can get off with it, but it's not like cramping toes and moaning, unlike most other sleeves in my collection.

To point out some positive things about the sleeve: It actually does feel somewhat comparable to a real vagina, a very textured one but it comes close!

What REALLY deserves special mentioning is the beautiful pussy opening. The quality and the beauty of the opening is unfortunately not a category in the ratings as this sleeve would become full rating there. It reminds me of an ex-GF of mine that looked VERY similar down there! It is the most detailed pussy of all the fleshlights I own and I really like the medium sized labia with the hundreds of realistic crinkles forming a funnel to invite you in. It even feels a little like an erect clit when you rub it... ;) That vaginal mold is just perfect, unluckily not what I search for in a fleshlight!

What I like about the structure is the rearward pointing bumbs at 14cm. As a circumsized guy, the foreskin does not retract over the tip when you reverse out, so these bumps get hold on the rim on the tip, making that part of the tunnel somewhat unique in feeling. But as a whole it is absolutely not on par with it's neighbors in the intensity scale here on this page.

I usually ignore the ratings of loudness, cleaning and drying time, except if they are particularly special to other sleeves. I'd use the loudest, hardest to clean and never drying sleeve if it was worth it by the feeling! The sleeve is more silent than the average sleeve when used without the endcap. With endcap sound level is no issue with any sleeve. Because of the wider canal an the rather coarse structures, cleaning and drying is particularly easy compared to other highly structured sleeves. So if you can't have the FL standing around for drying long enough, it's a point for the Luxe!

For cleaning I use mild hand washing soap ("soap free soap"), which does not hurt the sleeves noticably, even the old and frequently used ones! I don't trust only using water! I also use talcum and NOT corn starch. Moist corn starch is a perfect nutrient for molds and bacteria of any kind. Using corn starch and making a slight drying error is the fastest way for your sleeve to the garbage!

Conclusion:
It is okay, but I would not buy it again! It is totally overrated in my opinion, but it might be because of the circumcision.
Score 2.70
Overall Satisfaction 2
Introduction:
Welcome to another review by yours truly, revtwentyseven! A few points of info when reading my reviews: I am circumcised, use Gun Oil H20 lube, and generally FLy several times with each sleeve, including once immediately prior to the review. Most of my reviews reference how that review FLight was accomplished. Now on to the review for the:
Review:
One of the newest sleeves from Fleshlight is the Cherry DiVivre Luxe, which I got as part of the Black Friday/Cyber Monday Sale of 2015.
Aesthetics: As a fellow FA member commented, aesthetics should be considered with the overall review. I thoroughly agree, and although 90% of the sleeve is the same, the vulva of Cherry DiVivre is amazing. Intriguingly, the folks over at Fleshlight got a great mold of her vulva, as it opens up quite invitingly as if to give you a sneak peek into ahem, "coming attractions".
Lube: Giving the newness of this sleeve, I have the exact minimum number of FLights with the Luxe prior to feeling confident in making a review, which for me is five (5). In this case, this review was written shortly after that fifth FLight. For the final FLight before this review, I used Astroglide for lube. I do have some FL Water lube, but since it's unopened, I'll wait to use it. I've found that regardless of lube, both tend to have lasting use and staying power in slickness and consistency, though Astroglide does tend to get a bit less slick in a shower for a FLight a la Shower Mount. For the Luxe, not a whole bunch of lube is required, as although it is textured, the texture elements are smooth in nature and spaced out enough so that lube does not get trapped in any one location. However, if you do go for a long duration FLight, additional lube may be required.
Noise: I'm considering cutting this category from future reviews, as it's not exceptionally noisy, like most sleeves.
Penetration: Very enjoyable, especially with the first set of ovaloid bumps that your cock passes through. If that's not enough, try the small bumps encircling a rim, followed by more ovaloid bumps and then a ring of circular mounds. Given the variation of this texture, there's something that you will find enjoyable as you first enter and begin to FLy.
Intensity: Like the Indulge, the surfaces are largely smooth, but if you are on the larger side in terms of girth (or as your cock hardens and expands as you prepare to cum), you WILL feel the variations, and trying to keep control of your orgasm will be difficult, if not a losing battle. Also, if done right, you can get a little bit of suction power out of the sleeve, but the texture and variation is what provides the intensity.
Orgasm: WOW. Save for one FLight, orgasms in this sleeve are exceptionally pleasurable. Going hands-free with a shower mount (or using shower handles) is even better. This is one sleeve where I noticeably make vocalizations frequently as I cum.
Cleanup: I've noticed that this sleeve can be a bit tricky to dry. A paper towel and either a fan or a blow-dryer on a NO HEAT setting is probably a good thing to use to get the inside dried up fairly quickly. A warm water rinse (with perhaps some fingering) is usually all it takes to get the "deposits" out.

Conclusion:
Although it's not blatantly a compilation sleeve (Gauntlet, Primal, Tease, etc), the Luxe does have a lot of variation, and has quickly become a new favorite of mine (and apparently, other Fleshlight enthusiasts. Definitely a good choice for a first FLG purchase, especially if one have tried similar textures or the STU.
Score 4.59
Overall Satisfaction 4.9
How to get the best deal for this sleeve
Luxe Fleshlight Coupons & Deals
Coupon and Sale tracking will be added soon.
By following these rules you are most likely always going to get the cheapest price for any texture:
1. Follow the price trend above to track the lowest and average price for this texture.
2. Check if this texture is in the 342 (three for two, buy 2 get 1 free) deal.
3. It is always recommended to buy directly from Fleshlight's Official Store to prevent getting fakes or wrong products. That being said, if FleshAssist found this product listed on other sites such as Amazon, it will show the availability above. When buying from Amazon make sure that the seller is ILF, LLC - Official Store as that is the only store that sells real and original Fleshight products.