Gauntlet
Jesse Jane Upon entry, you're greeted first with the tight micro rib which then rubs you gently over the swallow ring. You'll burst into the intense lotus node next, and once through, you'll feel the fang texture massaging and pulling at you. Finally, for the ultimate intensity, the sleeve finishes into a blanket of STU bumps.
Characteristics
The Fleshlight Gauntlet Insert is a further development of the classic Lotus canal and is available exclusively in combination with the pussy orifice molded from the erotic model Jesse Jane. The textures of the inner walls and chambers are the same as the Lotus Insert except that they are covered with a texture of three different types of bumps. The Lotus node lays a further 0.8 inches (20 mm) forward inside the Gauntlet canal than inside the classic Lotus canal and is also easily reachable for men with a shorter penis (3-5 inches / 8-12 cm).

The Gauntlet canal starts with an approx. 0.4 inch (10 mm) tight entrance passage, which is covered by a soft vertical rib texture. This is followed by a 0.6 x 0.6 inch (15 x 15 mm) cone-shaped chamber, which has a ring of tiny bumps inside. Next there is the 0.7 x 0.4 inch (18 x 10 mm) convex-concave Lotus node, which narrows into the main canal by passing through a tight 0.4 inch (10 mm) wide connection canal. The main canal has a diameter of 0.6 inches (15 mm) and is covered in equal parts with thin point-shaped bumps and wide hemispherical bumps.
Other
A Pirates Edition of this texture exists. The Pirates version includes the official "Pirates" insignia on a limited-edition plastic case forged in honey and gold that brings a classy new meaning to the booty held within.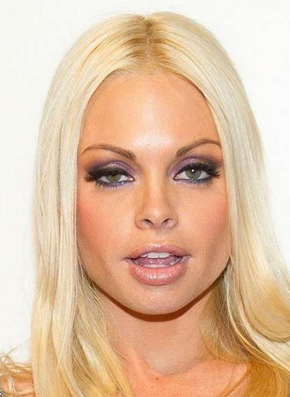 Jesse Jane
As a self-confessed "military brat", former cheerleader and dancer, Jesse Jane has combined her skills with a sheer love for sex to become one of the world's most watched adult perform...
TotallyNotMe's Review
December 6th, 2017 by TotallyNotMe
I got this sleeve as a mystery sleeve, and it has been the favorite of mine ever since.
I didn't expect much of a mystery sleeve and was ready to be dissapointed but the sleeve turned out so great!.

To continue with a kind of "regular" review:
The sleeve has a deep narrow entrance which felt great, the best part ist the lotus-style at around 3 inch.
What really made the difference to the other sl... Read More
Star:
Category:
Orifices:
Jesse Jane Pussy
Take a look at what our users think
Fleshlight Gauntlet Reviews
I got this sleeve as a mystery sleeve, and it has been the favorite of mine ever since.
I didn't expect much of a mystery sleeve and was ready to be dissapointed but the sleeve turned out so great!.

To continue with a kind of "regular" review:
The sleeve has a deep narrow entrance which felt great, the best part ist the lotus-style at around 3 inch.
What really made the difference to the other sleeves to me was how great it felt when warmed up.
For my other sleeves I can't say it was that much of a difference but for Gauntlet it multiplied my pleasure with this sleeve.
About the tightness, its just about what I was hoping to get when I bought my first FL: Tight and very stimulating but not too tight so you can last some time in there.

I can't say much about the cleaning or drying effort compared to other sleeves. I think this sleeves dries faster than the Spice one but I thinks its just because Spice don't dries very fast..
Compared to my utopia sleeve I'd say cleaning and drying is about equal.
Conclusion:
I really love this sleeve. I's all I expected from a FL before I got one.
To put this in perspective: I also own Utopia and Spice, and I think it's far better than those two.
Score 4.20
Overall Satisfaction 4.9
Introduction:
I am cut with 7.5 in length and about 6 in girth. I typically test my fleshlights cold at first then warm them after the break in period has ended.
Review:
I Bought because it looks very similar to the primal texture. And I will admit I was not dissatisfied, I love intense sleeves and this is right up my alley. The lotus bode is amazing and I only wish it had 2 more so it could outshine my primal. I do really enjoy this sleeve. The sleeve does wel lm on lube but does need a lil more here and there.. the complexity of the sleeve makes this one harder to dry but of well.
Conclusion:
Similar to the primal but not the same. Well worth it to me I love my intense sleeves and this one is heavy on my rotation
Score 3.78
Overall Satisfaction 4.75
First, I would like to say that I am a huge fan of Jesse Jane. So, this review may be a bit biased. I was extremely excited about getting this toy and trying it out. I really enjoy the texture of it, but I must say...."Wow, it is intense." Of the 17 fleshlight toys that I currently own, this is in the top two of most intense. The nodes really stimulate you. I don't last very long in this toy. But, its great!
Conclusion:
This is a great toy for a quickie, but I would not suggest it for long time sessions. It is extremely intense and can become painful for long term flights. Still one of my favorites though!
Score 4.11
Overall Satisfaction 4.15
Introduction:
I usually have at least 5 flights with a new sleeve before writing a review. Also the end cap is always open and I use 3 Fleshlight Girls at a time mostly.
Review:
Orifice:
Jesse Jane has always been one of my favorite pornstars of all time. Imagining being inside her sweet shaved pussy is making me hard everytime. Getting her Fleshlight was a given. In my opinion Jesse has one of the most beautiful vaginas in porn. Luckily ILF did a great job on her orifice. I wish I could share a picture of Jesse spreading her pussy in comparison to her Fleshlight. Apart from the color, her Orifice is almost identical to the real thing. Look up some porn of her, so you know what I am talking about.

Sleeve:
Entering Jesse is a delightful experience. The orifice is kind of tight and teases your penis preparing you for what comes inside.
The first part of the texture is even tighter than the orifice. That is a great contrast to the chamber coming afterwards. This chamber with small nubs opens up a little. That way you can feel the pressure of the Lotus Node really good on your glans. The more you push into the node, the more resistance you can feel to the point where it gives in. Now the Lotus node slides firmly around your dick, giving you a good amount of pleasure. So you know the Lotus Node is doing it's job inside Jesse Jane too.
What comes then can be compared to Stoya Destroya. The fangs are not so tight as in Destroya, but they are as good as in Destroya. The feeling they create is a bit different. They feel fleshy and smooth, but at the same time please you punctually. This combination makes you want to stay balls deep inside Jesse, if the Lotus Node wasn't so good.
Conclusion:
Jesse Jane Gaunntlet has been one of my first Fleshlight Girls I got and since then this sleeve serves me well. Many good sections make up this great sleeve. I'd recommend it to anyone looking for an all purpose sleeve. Edging feels great and pumping through feels great as well. Cumming inside Jesse Jane creating a big creampie adds to the fantasy.
Score 3.51
Overall Satisfaction 3.51
Introduction:
This review is made purely out of my personal experience/opinion and judged after atleast 10 sessions to break the sleeve in completely. Typically used in shower with the shower mount after having heated up the sleeve and the lube.
Review:
The Gauntlet sleeve is a mid to high intensity sleeve and features a varying textured insert that is very stimulating, as it has a tight entrance that slowly opens up with different sensations throughout and then tightens again before entering an intense spiked chamber with another tighter chamber behind it. Together combined with varying diameter and intense sensation this texture gives a mind blowing orgasm. But once again the only bad thing is that the intricate design of the texture makes dry time a bit longer.
Conclusion:
Excellent sleeve, varying diameter and highly stimulating texture gives mind blowing orgasms. Takes a bit more time to dry out due the intricate texture design though.
Score 3.79
Overall Satisfaction 4
I received the Jesse Jane Gauntlet (in the Pirates Limited Edition case) as part of a Free FLG sleeve (and case) giveaway with a purchase of another FLG product (in this case, Angela White's Indulge). Despite it being a freebie, I will give it a fair and honest review.
Aesthetics: As a fellow FA member commented, aesthetics should be considered with the overall review. I thoroughly agree, and although 90% of the sleeve is the same, the vulva of Jesse Jane does look quite pleasing, but one cannot help but think that it's a little TOO perfect. Still pleasing, though.
Lube: Although I have over five (5) FLights (my personal minimum) with the Gauntlet (actually, it's closer to twenty, if not more), I do FLy one additional time right before rating and review to keep my memory fresh. On this review, I used Astroglide. I do have some FL Water lube, but since it's unopened, I'll wait to use it. I've found that regardless of lube, both tend to have lasting use and staying power in slickness and consistency, though Astroglide does tend to get a bit less slick in a shower for a FLight a la Shower Mount. The Gauntlet doesn't need a whole glut of lube, but you will need to a couple of seconds (either thrusting/stroking or fingering) to get the lube distributed enough to enjoy.
Noise: Unless you are literally in the same room with someone (probably awkward, unless you're dating that person), the Gauntlet doesn't generate much noise to cause notice. It's not silent, but not noticeably noisy.
Penetration: Think of a Lotus sleeve, and then edit the crap out of it by merging various textures and concepts together. You have the Gauntlet. You start with a narrow chamber which widens out towards the first Lotus "node", which is a bit closer to the entrance than the Lotus (but not as close as the Mini-Lotus). You then enter a spiked chamber (kinda like the Primal with Destoya teeth, but straightened out) and then onwards to a bit of STU bumps, but by that part, you're getting out of the range of "average" of cock size. Generally, each sensation is different and pleasurable (I find the first node to be quite enjoyable, I'm not quite able to get past the "teeth".) With all of the texture variations, generally everyone will find at least one positive they will enjoy with the sleeve.
Intensity: Having many FLights with the Gauntlet, intensity does tend to vary. One is by speed. It goes without saying, the faster you go, generally the intensity does ratchet up. But if you hit textures just right (e.g. the "Lotus Node"), intensity can be just as high going slow as well. I do find the texture to be even MORE enjoyable going hands-free, so using a Shower Mount or other hands-free device is a definitive plus, and I would consider a near-necessity for this sleeve.
Orgasm: My mileage has varied orgasming with the Gauntlet, but the range is generally from nice to near knee-buckling. If you think you're heading towards the latter, you might want to grab on to something, especially if you are availing yourself of the services of the Shower Mount in the shower. However, the past couple of times were somewhere in the middle of that range.
Cleanup: Not terrible, but not exactly rinse, pat-dry, let it air for two hours and be done. I'd recommend a paper towel to get the water out of the interior of the sleeve, but considering the nodes: do be careful so the sleeve doesn't eat your towel and you have to retrieve pieces left over. If that doesn't do it, run a blowdryer on NO heat (or use a fan) and circulate air at both ends of the sleeve to hasten drying.

Conclusion:
The Gauntlet was one of the first FLG sleeves that spawned the concept of a compilation sleeve, taking the best bits of each sleeve (Forbidden, Primal, Lotus, Destroya/Primal and STU). Although other sleeves have since surpassed the Gauntlet, newer "compilation" sleeves such as the Tease and Luxe owe their existence and success to the Gauntlet. For those looking for variation or a medley of textures, the Gauntlet is a smart choice.
Score 3.88
Overall Satisfaction 4.6
I am extremely pleased with this sleeve. It is such a ride when you are using it, every inch you thrust into is a completely different sensation and it is really the most unique feeling I have come across in quite some time. As you slide in you can gently feel the Swallow ribs and from there on it becomes very interesting. The sensation as you are using it is so complex that you really can't tell what part you are touching with you cock, but trust me on this, you won't care! There are times when you are using that it feels as if you have to stop or you won't be able to stand it, but persevere and the reward will be worth it. NOTE: don't buy this if you have Destroya as they feel too similar to warrant the price.
The Gauntlet was one of the first multi-textured Fleshlights: a toy with different textures along the canal. At introduction, it had what you could called a greatest hits of textures inside the sleeve.

The Gauntlet combines the micro ribs found on the Forbidden, the "teeth" from the Swallow, the inverted node of the Lotus, the Fangs from the Succu-Dry, and last but not least, the pillows from the STU. All these textures are considered pretty much intense, and the idea of combining them in a single sleeve was to provide the most intense FLG at the moment. Unfortunately, it fails to provide that level of intensity - unless your penis is longer than 7 inches.

With a 5 inch long penis, I reach part of the Fang texture, a texture that is extremely pleasurable, but is intense only when close to orgasm. Even with that drawback, the Gauntlet gives a good ride. The "teeth" and the slight resistance of the inverted node provide immediate feedback and it continues increasing until you are surprised by fangs. The Fang texture feels soft at first, but stroking or thrusting slowly they really feel sharp, "biting" your penis (in my case, the head of my penis received those bites).

Orgasms were the most vocal I had since starting the RPP, making me grunt loudly when using it hands free. It is intense, but something tells me that I would have felt more intense orgasms if the texture allowed me to enjoy all the sensations offered by it. The Gauntlet is tight enough to satisfy most users because the entrance is tighter than expected thanks to the micro ribs. Unfortunately, the FLG case doesn't provide enough suction to make this FLG shine as a cum drainer.

This texture was not designed to simulate real sex, and the texture lets you know that fact from the start. Whatever points it loses on realism, the Gauntlet recovers them when it allows you to feel different sensations based on how you use it in terms of method, position, end cap placement and angle. It is an extremely versatile texture highly recommended for hands free sessions.

This sleeve retains lube pretty well, and in my opinion, the more lube you use, the better the Gauntlet feels. To keep full enjoyment of the texture, I had to re-lube twice during sessions lasting 30 minutes or more (longest session was a two-hours hands free with various edging rests).

Like all Fleshlights, the Gauntlet is pretty easy to clean - just open a faucet with cold or warm water and allow the running water to flush the interior. Since all fleshlights are open ended sleeves, running water through them between 1 and 2 minutes is more than enough to clean them. Adding some alcohol after each use helps to avoid any mold or fungi to develop inside the canal. It usually dries completely after leaving it overnight on the open.rs or noticeable wear observed after the weekly sessions.
Conclusion:
The Gauntlet texture is a good buy for anyone looking for a texture that builds up in intensity until reaching the orgasm. If you are looking for a texture to enjoy sessions between 20 and 60 minutes, the Gauntlet is a texture you should consider.
Variations of
Gauntlet Fleshlight Sleeve
How to get the best deal for this sleeve
Gauntlet Fleshlight Coupons & Deals
Coupon and Sale tracking will be added soon.
By following these rules you are most likely always going to get the cheapest price for any texture:
1. Follow the price trend above to track the lowest and average price for this texture.
2. Check if this texture is in the 342 (three for two, buy 2 get 1 free) deal.
3. It is always recommended to buy directly from Fleshlight's Official Store to prevent getting fakes or wrong products. That being said, if FleshAssist found this product listed on other sites such as Amazon, it will show the availability above. When buying from Amazon make sure that the seller is ILF, LLC - Official Store as that is the only store that sells real and original Fleshight products.